---
1922/1923 - Printing Press "Jeanne d'Arc"
---

In November 1922 and August 1923, French stamps overprinted "O.M.F. Syrie" were printed by the
Capucine Fathers printing presses in Beirut.

The Fathers who ran the "Jeanne d'Arc" orphanage coordinated other
activities: a farm, arts and crafts ateliers and a printing press.

(Translated excerpts from: "Le Monde des Philatelistes No. 537 - February 1999")

Related: Printing Press "Imprimerie Catholique" Founder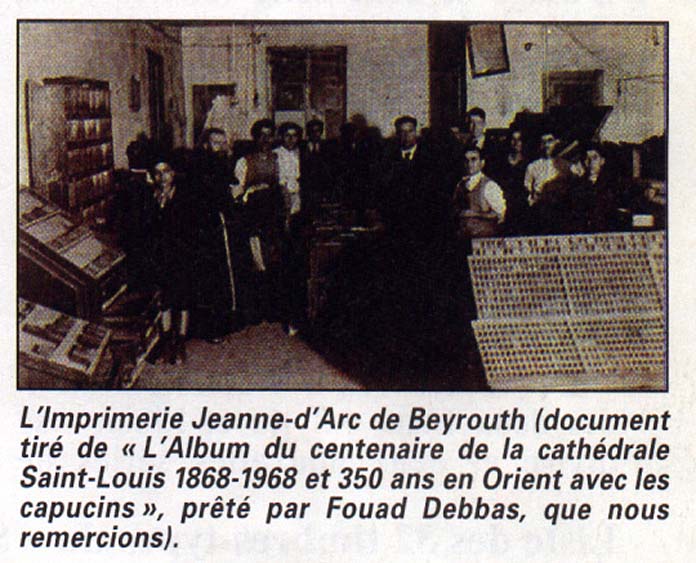 ---
---
Back to the home page
---
This page was last modified on Thursday December 31 2020
-----BEGIN PGP PUBLIC KEY BLOCK-----
Version: 2.6.2

mQCNAzKUvlUAAAEEANgK33kKSuRoC3L/yBK32zZQK9a8sqtkjTwlJoTkMhY9fKhn
cpLyxcXypyij5lkiE38RSNSkFaRQxu6vCB0hqpyuFHD0iTns067YreWMVVM8NjPe
C/LdJeSy4vQt3KB9qZBTCV2YrSk5wx/2gUAT0/n5dQEHEzUbYLJ3XPkZhxjdAAUR
tCBFbGllIEkuIE1vdXJhZCA8ZWxpZUBhdG1zeXMuY29tPg==
=BV28
-----END PGP PUBLIC KEY BLOCK-----
(c)1995-2004 Elie I. Mourad
The views expressed are not necessarily mine or those of my employer.